Investing in Agriculture Stocks
Agribusiness is a life-sustaining operation, and there are numerous ways for investors to own a piece of this action.
Like much of the global economy, the agricultural industry has been affected by COVID-19, but it's made an impressive recovery as agricultural commodity prices have soared in several categories. A number of agriculture exchange-traded funds, such as iShares MSCI Agriculture Producers ETF (NYSEMKT:VEGI), now trade around all-time highs.
Stay up to date
The agriculture industry is rapidly changing in the current economic climate. Check out the "recent articles" feed below for the latest.

Today, agribusiness is big business, touching a wide array of different industries. The scale required for operations has created a long list of agricultural titans. These companies -- many with healthy profits, cash flows, and dividends -- offer excellent opportunities for investors.
The best agriculture stocks
Agribusiness today is full of investing opportunities. You can choose among companies providing agricultural products and services such as fertilizers, pesticides, seeds, crushing and processing, and livestock. There are also a handful of emerging markets.
Here's a list of nine top dividend-paying agriculture stocks spanning these opportunities. They're great for investors with a long-term mindset.
| Company | Market Cap | Dividend Yield | Major Markets |
| --- | --- | --- | --- |
| Archer Daniels Midland (NYSE:ADM) | $37.2 billion | 2.2% | Plant-based proteins, processing, industrial biotech |
| Bayer (OTC:BAYRY) | $66.5 billion | 3.5% | Pesticides, biologicals, digital agriculture |
| Bunge (NYSE:BG) | $12.3 billion | 2.3% | Processing, industrial biotech |
| Scotts Miracle-Gro (NYSE: SMG) | $12.1 billion | 1.1% | Fertilizers, lawn care, hydroponics |
| Corteva Agriscience (NYSE:CTVA) | $32.9 billion | 1.2% | Pesticides, biologicals, digital agriculture |
| Nutrien (NYSE:NTR) | $34.4 billion | 3% | Fertilizers, digital agriculture, retail |
| FMC Corp (NYSE:FMC) | $14.9 billion | 1.6% | Pesticides and biologicals |
| Tyson (NYSE:TSN) | $29.3 billion | 2.2% | Meat production, plant-based proteins |
Data source: YCharts, SEC filings. As of May 25, 2021.
Of course, not all agriculture stocks are created equal. There are unique considerations in each ag-related industry, and, as you're assessing which agricultural stocks are right for you, consider how these opportunities and risks align with your investing preferences.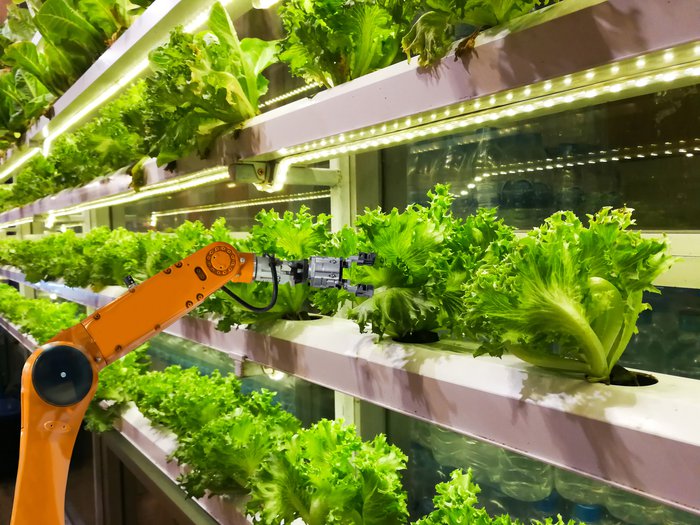 The basics of agribusiness: Six opportunities to consider
Here's an overview of six major opportunities and the investing style best served by each, listed in no particular order:
1. Fertilizers (cash flow and dividends)
The world's major crop nutrients are nitrogen, potash, and phosphate. Nitrogen is manufactured through synthetic chemistry, while potash and phosphate are mined. Demand for all three nutrients is heavily reliant on the health of planting seasons for major crops such as corn, soybeans, and wheat. The market has been challenging in recent years, but fertilizers remain an essential part of food production. That's especially true in places with poor soil quality such as Brazil and China.
Nutrien is one of the world's largest fertilizer producers and the largest potash producer, generating 6 million metric tons annually. The company also incurs some of the lowest nitrogen production costs on the planet. The commodities boom has been kind to Nutrien, with crop prices and cash flow margins at multi-year highs. As a result, the company reported record adjusted EBITDA at $109 million in the first quarter of 2021.
Scotts Miracle-Gro offers exposure to individual consumers such as gardeners and homeowners in need of lawn care products, as well as to professional customers such as farms. The stock has done particularly well during the pandemic as stay-at-home orders and a general shift to living away from major cities sparked an interest in lawn and garden care. Revenue grew 47% in the first half of fiscal 2021, which ended in March.
2. Pesticides (cash flow and dividends)
Pesticides are another agricultural input that has faced challenging market conditions in recent years and for many of the same reasons as fertilizers. But a wave of consolidations and broad expectations for improving market conditions could make a big difference in the 2020s.
In 2018, Bayer acquired Monsanto to become the dominant player in the industry. And, in a series of transactions from 2018 to 2019, FMC completed the spinoff of its lithium segment, sold its nutrition segment, and purchased assets from DuPont to become one of the largest global agrichem companies. DuPont and Dow Chemical merged and then split into three in 2019, one of those pieces being Corteva Agriscience.
Litigation and regulation remains a risk in the sector, however. In February 2021, Bayer set aside $2 billion to cover any further claims against weedkiller Roundup, which some believe causes cancer. Corteva could also face litigation from its toxic pesticide, chlorpyrifos, which it took off the market in 2020.
3. Digital agriculture (growth and cash flow)
Advancements in data crunching, satellite imagery, and mobile computing power have given rise to digital agriculture. And, while this might be a new opportunity, hundreds of millions of acres were covered as of early 2020.
Here's how it works: Many farmers can now pay a monthly or annual subscription fee to access historical and predictive data specialized for their farms. How many seeds should a farmer place in each row in the northwest corner of their land? When's the optimal time to apply fertilizer this season? Will corn rootworms be worse than usual?
John Deere has emerged as a leader in the category and the technology, and, paired with its industry-leading farm equipment, has led to a boom in the stock. In fact, the stock has delivered a total return of more than 10,000% since its debut in 1978.
4. Plant-based meats (growth)
Increased demand for animal-free proteins is driving a boom in plant-based meats. To succeed, consumer brands and start-ups such as Beyond Meat (NASDAQ:BYND), Impossible Foods, and more need to deliver on nutrition, taste, texture, and price. Therefore, these companies must partner with, and create supply agreements with, the world's largest agriculture companies such as Archer Daniels Midland, Bunge, and Tyson Foods.
A handful of nontraditional stocks also merit your consideration. Precision BioSciences (NASDAQ:DTIL) is developing a novel gene-editing technology platform focused on human health, but it also owns a subsidiary dedicated to agricultural applications. One focus is engineering high-protein, neutral-tasting chickpeas, which could become a next-generation plant-based protein source. For example, Beyond Meat relies on pea protein for its products, but it might be tempted to switch at least some supply to chickpeas if the product lives up to the hype.
5. Biologicals (growth)
Chemical-based pesticides and fertilizers are poised to dominate their respective markets for the foreseeable future, but investors should know that living technologies are also in production and may see significant growth in the years ahead. Biologicals are microbe-based treatments of soils or crops designed to boost yields, improve plant defenses against pests, and potentially reduce dependence on chemical inputs.
Individual investors can gain exposure to the emerging opportunity in a few ways. Bayer, FMC, and Corteva Agriscience are all leading developers of biologicals. From its acquisition of Monsanto, Bayer now has the leading biologicals brand on the market through a partnership with Novozymes.
Related topics
6. Future markets
There are a number of agribusiness applications on the horizon that should be part of an agriculture investor's watch list in the years ahead.
Flavors and fragrances are high-margin products mostly manufactured through synthetic chemistry, but specialty agriculture has a place in the market, too. Vertical farming, a method of growing crops using layers or shelves to conserve space, is a hyped technology, and newly public AppHarvest (NASDAQ:APPH) gives investors their first opportunity to get pure-play exposure to the new farming technique.
Finally, water is a crucial component in agriculture, but it is also a limited resource, and global water consumption is expected to significantly grow over the next generation. Consequently, investors should keep an eye on water treatment and desalination stocks such as Xylem (NYSE:XYL) and Consolidated Water (NASDAQ:CWCO), which offer exposure to water sustainability.
Food security still matters in the 21st century
Humans have made tremendous progress in reducing famine and food shortages in the past 70 years, but that doesn't make food security any less important in the 21st century. A rapidly expanding global middle class and increasing global population will raise per-capita caloric demand and shift preferences to more protein-heavy foods. It will require all hands on deck, with some new technologies sprinkled in, to meet the challenge -- and agricultural companies like those above are hard at work on these projects. Is your portfolio exposed to the opportunity?
You might like: