Investing in the Best Biotech Stocks
Some experts say we're in "the golden age of biotechnology." Scientific advances are opening up possibilities for the treatment and prevention of diseases that could only have been imagined in the past.
This golden age is also presenting tremendous opportunities for investors. Biotech stocks offer the potential for huge long-term returns. Here's what you need to know to invest in the best biotech stocks on the market.
The latest
The biotech industry is rapidly changing in the current economic climate. Find the latest information in the newsfeed at the end of this article.

Best biotech stocks
The best biotech stocks to buy right now boast strong pipelines, and some already have winning drugs on the market. The COVID-19 pandemic has also created some tremendous opportunities for biotechs developing potential treatments and vaccines. Here are a few companies that investors should watch closely.
Source: The Motley Fool
1. Axsome Therapeutics
Axsome (NASDAQ:AXSM) has a lead candidate, AXS-05, that targets depression and Alzheimer's disease agitation. The company expects to file for U.S. regulatory approval for the drug in treating depression in early 2021. It's also evaluating AXS-05 in a phase 2 study for smoking cessation. In addition, the biotech plans to file for approval of experimental migraine drug AXS-07 in the first quarter of 2021 and has two other drug candidates in earlier-stage clinical trials.
If approved, AXS-05 could generate peak annual sales of at least $1 billion, making it a blockbuster drug, with one analyst projecting peak sales of $2.6 billion. AXS-07 could make more than $500 million per year in the U.S. alone at its peak, according to William Blair analyst Miles Minter. The potential for these two candidates makes Axsome an attractive mid-cap stock to buy right now.
2. Exelixis
Exelixis (NASDAQ:EXEL) has developed four drugs that are currently on the market. Its biggest winner by far is Cabometyx. The drug is approved for treating renal cell carcinoma (RCC) and hepatocellular carcinoma (HCC), the most common types of kidney cancer and liver cancer, respectively.
The biotech could deliver solid growth in the future by expanding the use of Cabometyx in combination therapies. Exelixis and Bristol Myers Squibb (NYSE:BMY) hope to win U.S. approval in early 2021 for a combination of Cabometyx with immunotherapy Opdivo in previously untreated patients with RCC. It's also working with Roche (OTC:RHHBY) to evaluate a Cabometyx-Tecentriq combo in a late-stage study targeting previously untreated RCC.
In addition, Exelixis is using its fast-growing cash stockpile to beef up its pipeline. The company has announced several business development deals to achieve this goal, including licensing Aurigene's promising early-stage cancer drug XL102.
3. Novavax
Novavax (NASDAQ:NVAX) made a huge comeback in 2020 after the stock lost nearly 90% of its value in 2019 following a second late-stage flop for respiratory syncytial virus vaccine candidate ResVax. The small biotech's rise from the ashes stemmed from two important developments.
The company reported overwhelmingly positive results from a late-stage study of experimental flu vaccine NanoFlu. The company now plans to pursue Food and Drug Administration (FDA) approval of the vaccine. Analysts project that, if approved, NanoFlu could generate peak annual sales of as much as $1.7 billion.
Novavax could have an even bigger winner with its COVID-19 vaccine candidate NVX-CoV2373. It's one of the leading vaccine candidates that use a protein subunit (a single protein molecule) to spur an immune response against the novel coronavirus. The biotech expects to report interim results from a U.K. late-stage study of the experimental vaccine in early 2021.
The U.S. government signed a $1.6 billion agreement with Novavax to fund the late-stage development and manufacturing of its COVID-19 vaccine, with the stipulation that Novavax will supply 100 million doses if the drug is successful in clinical testing. Novavax has also inked supply deals with Australia, Canada, the United Kingdom, and India.
4. Vertex Pharmaceuticals
Vertex (NASDAQ:VRTX) enjoys a virtual monopoly in treating the underlying cause of cystic fibrosis (CF), a rare genetic disease that results in the excessive buildup of mucus in the lungs and digestive system. Its newest CF drug, Trikafta/Kaftrio, could expand the addressable patient population by more than 50% by targeting a genetic mutation estimated to occur in 90% of CF patients.
The company's pipeline includes other promising CF drugs in phase 2 testing. Vertex is also seeking to expand beyond CF, with phase 2 programs targeting pain and the rare genetic disease alpha-1 antitrypsin deficiency, which can cause symptoms including shortness of breath, lung infections, and fatigue.
In addition, Vertex's early-stage programs could be game changers. It's partnering with CRISPR Therapeutics (NASDAQ:CRSP) to test gene-editing therapies (treatments that involve changing DNA sequences) targeting the rare blood diseases beta-thalassemia and sickle cell disease. The group hopes to soon advance to phase 1 testing of an experimental drug that holds the potential to cure type 1 diabetes, a disease that affects over 1.5 million people in the United States alone. Although analysts haven't projected peak sales for these pipeline candidates, Vertex could be sitting on a gold mine if all goes well.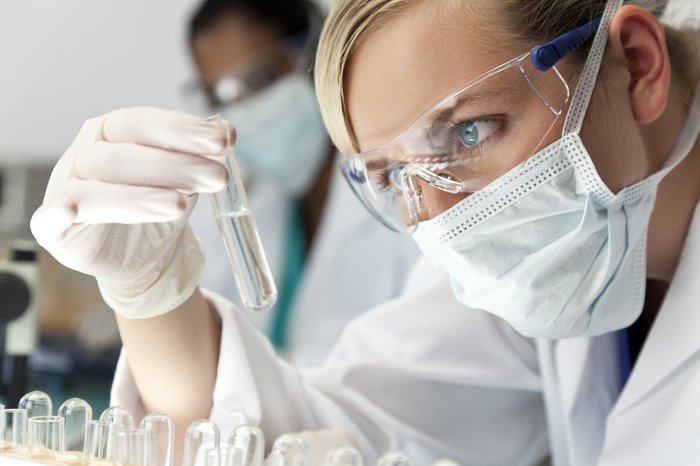 Biotech basics
What exactly is a biotech? It's a company that uses living organisms (for example, bacteria or enzymes) to make drugs. This use of living organisms differentiates biotechs from pharmaceutical companies, which use chemicals to develop drugs.
There are four major steps for biotechs in developing new drugs:
Drug discovery, where biotechs identify drug candidates and the diseases that they could potentially target.
Preclinical testing, where biotechs test drug candidates in vitro (in test tubes) and/or in vivo (in living animals, such as mice).
Clinical testing, where biotechs test drug candidates in humans.
Regulatory approval, where biotechs seek to obtain approval from applicable government agencies to sell a drug.
Clinical testing typically involves three phases:
Phase 1, which involves small studies designed to find a safe dose for the drug candidate and determine how it affects humans.
Phase 2, which involves studies that can include around 100 or more patients and focus on safety, short-term side effects, and determining the optimal dose for the drug.
Phase 3, which involves larger studies that can include hundreds or even thousands of patients and that focus on how effectively an experimental drug treats a target disease as well as how safe it is.
A drug candidate must successfully make it through each phase to advance to the next. Once a drug successfully completes a phase 3 trial by demonstrating safety and efficacy in treating the target condition, the biotech will file for regulatory approval using the clinical data from the study. In the U.S., the FDA oversees approvals for new drugs.
Investors should pay close attention to which phases a company's drug candidates are in. The later the phase, the less risk there usually is. It's also important to consider a drug candidate's peak annual sales -- the highest level of sales per year that analysts project. The higher the better.
In addition, a biotech with more experimental drugs in its pipeline (the term used to refer to all a company's drugs that are in development) will tend to have less risk than a biotech with only one or a very few drug candidates.
Another important thing to watch with biotechs is their financial positions. Most biotechs don't achieve profitability until they successfully launch one or more drugs in the market. They require significant amounts of cash to fund operations and advance their pipeline candidates. Companies often issue new shares to raise the cash needed, which lowers the value of existing shares. Some biotechs also receive money through partnerships with larger drugmakers and grants from government agencies and nonprofit organizations.
Related topics
Risks and rewards
It's possible that these biotechs' clinical studies could flop. Even if testing goes well, there's no guarantee that the companies will win regulatory approvals for their drugs. Those are two of the main risks associated with investing in biotech stocks. Companies can also run out of money to fund clinical studies, complete regulatory filings, and/or bring new drugs to market.
But Axsome, Exelixis, Novavax, and Vertex could also be successful with their clinical studies and win approvals to launch their promising drugs. It's also possible that any of these companies could be acquired by a larger drugmaker. The chances appear to be good that these stocks will generate tremendous long-term gains for patient investors.
You might like: